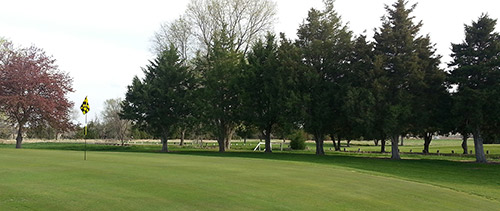 About the Course

North Platte's favorite Golf Course is owned by Richard Skinner PGA Professional and Past Teacher of the Year, Nebraska Section PGA!

Indian Meadows Golf Course is a 9-hole public course in North Platte, Nebraska with a 3250 yard an excellent condition parkland design that is a well maintained course with numerous trees, a pond, creek and sand traps to keep you challenged and a practice driving range is also available.

Par 36. Course Ratings: 70/114

Hole #1 - 420 yards:
Good Par 4. A good drive will leave a second shot of medium length to a fairly large green. Not a lot of break, OB to the right.

Hole #2 - 385 yards:
Slight dogleg right slope & OB to the right. A good drive leaves a short iron to a Donald Ross style green. You should play to the center as it will reject other than a very good shot the green has subtle beaks.

Hole #3 - 161 yards: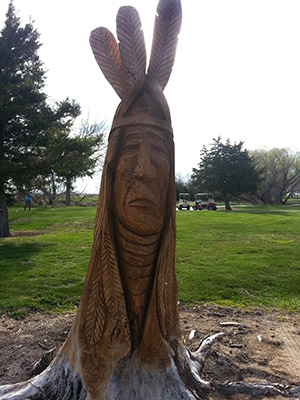 Elevated green, medium size, relativly flat putting surface.

Hole #4
Par 4 with a valley in the fairway that can leave an uneven lie for the second shot, to an elevated rather large green with subtle breaks OB left.

Hole #5
Par 4 slightly downhill, leaving a short iron to a large 2 level green, trapped to the right, OB left.

Hole #6
Short Par 3 over water to a small green slope from back to front quite a lot of break.

Hole #7
Par 4 requires a good tee shot. OB left, water right. A second shot with a shorter iron to a green with slope back to front.

Hole #8
Meduim length Par 5 over water with water to right. A depression and tree 100 yards from the green can be a problem. The green is 2 level and can make for tricky approach shots, breaking putts when pin is forward.

Hole #9
Short Par 5. A 270 yd tee shot gives you a 215 yd 2nd shot to a green with a lot of slope in the front 1/3 depending on pin location. You may have a lot of break. OB left.

Location Map

Click thumbnail to see interactive map

For more information on these events or to plan an event at Indian Meadows call the Golf Shop at 308.532.6955 or golf@indianmeadowsgolfcourse.com.


Fun Facts
~ There are three golf balls sitting on the moon.
~ Tiger Woods was introduced to golf at nine months of age by his father.

Quick links...

~ Course Fees & Services
~ Private Lessons with Richard Skinner
~ About the Course